A very Happy Christmas and New Year to you all
---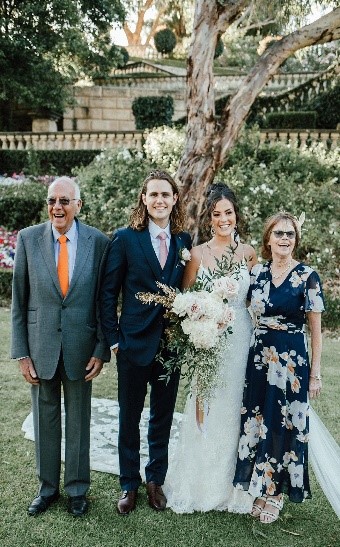 Update January 2021 Still in Lockdown

Our review of last year. We are so pleased that our year began with a visit to Australia with many of our family and friends around to celebrate the wedding of our grand-daughter Kezia to Ben Dawson.

We would never have envisaged what was going to happen, all over the world, in the form of the Covid19 virus, affecting travel, relationships, family life and jobs.

Our memories of days in the sunshine, Christmas on the beach, seeing in the New Year and other special activities seems an exceptionally long time ago. We are so thankful for photography, for the internet and the telephone that brings good memories and keeps us in touch with each other.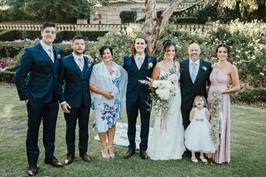 Kezia looked radiant as she walked down the tree lined slope to meet her husband to be. They both shared their vows together with lovely personal touches, songs that showed their love for each other, speeches that brought us all to tears or laughter, a very personal but inclusive time for all of us. The picture on our left is Kezia & Ben with the rest of our Australian family.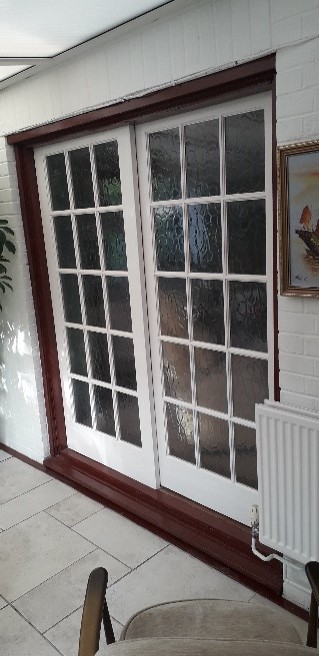 After celebrating half of the family birthdays in February, we were plunged into Lockdown. This was a new venture for all of us. Terry was thrilled because it gave him opportunity to start on jobs that needed to be done around the house and garden. He started with a pathway down the right side of the garden which meant clearing out rubbish, roots and stones, one of the biggest  jobs for him to tackle brought us into contact with neighbours in one the flats next door. Dennis has spent most of his life building houses in South Africa and volunteered to help cut many of the stone blocks and rebuild some of the broken-down garden wall. His wife has been unwell, and we have been able to help them with shopping, which has been good.

While searching through Gumtree we saw & picked up a couple of second-hand French doors and replaced our rather old-fashioned folding ones. Our garden now looks great and so do the inside jobs we have done.

Unfortunately, Doreen has not been too good lately. She has been diagnosed with arthritis of the spine and has serious infection in her legs. We have been able to employ a local single mum who was looking for work and has had experience in the care sector. She has been great for Doreen helping her 3 mornings a week with personal care. The doctors & district nurse are working on her leg problems.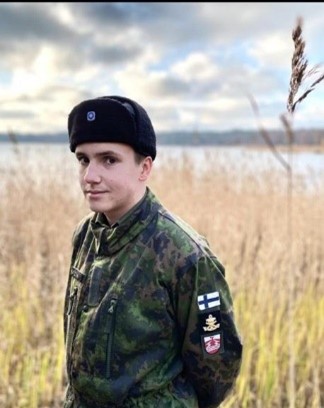 Our families abroad are doing well. Both where they live in Finland and Australia have low cases of Covid19. We were expecting a visit from many of them this summer but, of course, flights had to be cancelled.  Andrew and Rebecca have been able to continue their work and Andrew has a new job awaiting him next January. Oliver has begun his term of 9 months in the Army and will finish in March.  He has done extremely well so far. Sienna has been back to school and will break up for Christmas.  Philip and Michelle have done well with their Jobs, Philip in publishing and Michelle with her counselling course. They moved to a new house with Ethan just in time for Ben and Kezia to take full residency after their return from honeymoon. Ethan and Jake have now found their own apartment, so Philip and Michelle are now enjoying being on their own for the first time since Abigail was born.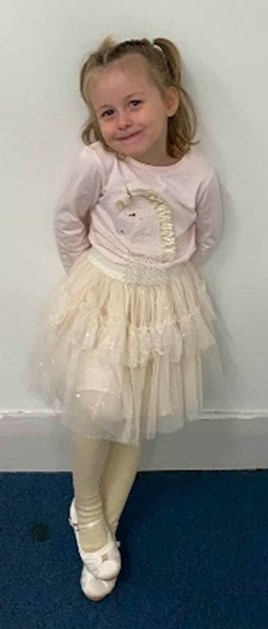 Abigail and Eva also have a new apartment. Eva was 4yrs old in November and continues to be a real sweetheart. Abigail brings her up well and is so pleased to have all the family close by, this works both ways.

John and Janna, in Eltham, continue to lead the church forward. Changes happen all the time but thanks to the internet, no one loses out. Chloe has been able to get a Job in a retirement village which she likes, Esther continues in college and Ben has been able to stay in school. We are thankful for how the Lord has kept our family and friends during this last 10 months.

Terry chose not to use Zoom to speak at meetings so is waiting until church life gets back to normal, he is however, enjoying sessions  on New Life Radio each month and has taken up opportunity sharing with groups of up to 6 people when possible.

One thing we have both enjoyed is keeping in touch with the Church Home group we are responsible for. As there are 14 of us, we are not able to gather together, so phone each week to keep contact. During the middle summer months, we have visited them all in ones or two's, before lockdown 2 came into force.

We were pleased to welcome Terry and Brenda Mosley to our shores from Ireland. Brenda is Frances's sister and Caroline's Mum. (she and David Lockwood lead the Beulah Church, of which we are part). Terry and Brenda are renting a lovely flat, near to David and Caroline and the church building. We send blessings to you all this Christmas/New Year time. Next year will be an incredible time.

Love Terry and Frances xx